Frequently asked questions about bathroom makeovers
1. What are some of the bathroom design trends?
Resort and spa looks are very popular. Spa-themed bathrooms frequently feature sculptured soaking tubs. A soaking tub tends to be deeper than a standard tub, and has a smaller footprint. They can be made of fiberglass, enamel over cast iron, or natural materials including wood or marble.


Quartz countertops with undermount sinks are still most requested, along with darker fixtures.


Tiles continue to be large, with minimal grout lines, and glossy. We rarely see the traditional 4" x 4" bathroom tiles used anymore. Look for tiles at least 18 x 18. Rectangular shapes (for example 12 x 24) are popular choices for not only the floor but the walls as well, sometimes installed vertically, sometimes horizontally. Mixed shapes and sizes of the same tile. And texture, texture, texture is very much on trend.




For color, white, black, and grey are the top choices, followed by blue. Soft greens and blues are beautiful and are being used on floors, vanities, and walls.


Large, walk-in showers with a seat or bench are very desirable. They can have a rain showerhead that is mounted into the ceiling over the center of the shower. They may also include multiple body jets spaced along each side wall. Floor to ceiling shower glass.


Larger vanities with double sinks, or individual vanities are still popular.. A standard double vanity is sixty inches long; we are seeing more clients make space for a seventy-two inch (or longer!) vanity. If you're willing to spend a little extra for custom work, you can have any length (and shape) that you want. Floating vanities create the illusion of more space in an older, less roomy bathroom.





Today's lighting options include chandeliers instead of standard overhead light fixtures, wall sconces, can lights installed in the ceiling with dimmer switches, and an overhead light source in the shower. Backlit, dimmable mirrors and medicine cabinets are very popular.


Plenty of cabinet space and open shelving are always desirable.


Bidet features are prominent in many of the newer toilets, along with smart controls. Sleeker lines look great, and make for easier cleaning.
2. How much does a bathroom remodel cost?
We looked at our completed renovations this year and compiled this 2022 Project Cost Range.
Master Bath:
$13,000 to $41,000
(Average $31,000)
Guest Bath:
$7,000 to $24,000
(Average $16,000)
These prices do not include items that the client provided, for example, plumbing fixtures. Every job is different, but this gives you an idea of typical budget for your bathroom renovation.
REMODELING Magazine does an extensive survey every year of recent bathroom remodels in Atlanta. The average cost in 2021 of a midrange bathroom remodel was
$24,060
.This includes all new fixtures, vanity cabinet, frameless glass shower doors, faucets, countertops, tile, and labor (plumbing, electrical, etc.) An "upscale" bathroom remodel was
$75,934
.
You may be wondering what the difference is between midrange and upscale and why the price range is so great. The quality and cost of the materials used is the main factor to determine if the redo is considered midrange or upscale. There are many components to a bathroom remodel, and each item has a wide range in quality and price. For example, a toilet can cost $100 or over $5,000, tub prices range between $125 to over $10,000, and even something "simple" like shower heads vary from $5 to $10,000.
3. How do I know what I want my bathroom to look like?
This is either the fun or the agonizing part of the process. We recommend websites like Pinterest and Houzz where you can see literally thousands of pictures of bathrooms. You can create boards and idea books of the bathrooms that you like. Vendor websites, new subdivision model homes, and manufacturer showrooms (such as Ferguson and PDI) are also great sources for ideas. We are here to assist you every step of the way, however, most of the design decisions are truly personal preference. And remember a picture is worth a thousand words----if we can see it, we can help you find it!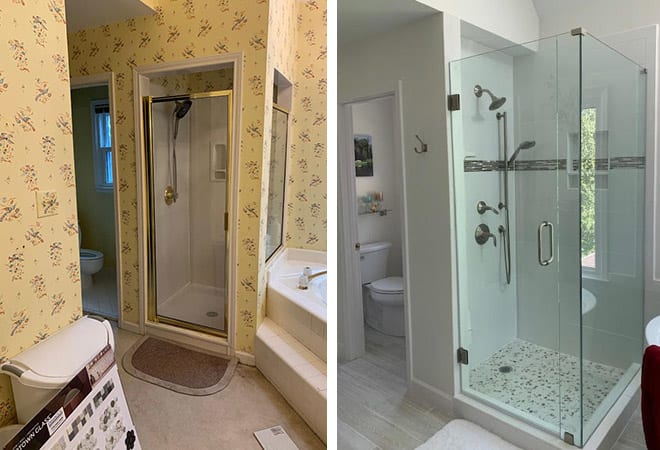 You can see pictures of our installations on our
Facebook (Enhance Floors and More)
and
Instagram (enhancefloors)
pages.
4. What types of tiles can I use in my bathroom remodel?
Ceramic and porcelain tiles are the most popular type of bathroom tile. Most are economical, durable and come in an enormous variety of colors and styles. There are many choices of floortile, coordinating or contrasting wall tile, and borders and mosaics. Natural stone(travertine, marble, etc.) is also a popular choice (but expensive!) for bathroom floors and walls, creating a sumptuous home spa look in the bathroom. Be aware that natural stone requires special maintenance products and periodic sealing. River rock, pebbles, and geometric mosaics are popular choices for the shower floor.
An Enhance Design Consultant will meet with you in the showroom to discuss the scope of your project. We will assist you in our Design Center with tile selection and will schedule appointments for you to visit our vendor partners for fixture and hardware selection. Next an Estimator will come to your home and your quotation will be prepared. Once all the details are finalized you are well on the way to making your dream bathroom a reality!
6. I want a new vanity. How much do they cost? Where do I get one?
You can purchase a "stock" vanity from a big box store, a plumbing supply store like PDIor Ferguson, or online (Kohler, Fairmont Designs, Wayfair). Stock vanities come in standard sizes, normally 21—22 inches deep, and in widths of 24", 30", 36", 48", and 60". You can combine widths to create a longer vanity. Some stock vanities include a top and sink, but not always. Plumbinghardware like faucets and drains are rarely included. Prices for a 60" stock vanity range from $1000 to $4500. You can also create a custom vanity from cabinet components. Specialty sizes and design features as well as an almost unlimited selection of stain or paint color choices and drawer and door styles are an advantage of a custom vanity. The cost of a 60" custom vanity starts around $3000and can be as much as $6000 to $8000, depending on the design details . We can certainly assist you in creating your custom vanity. Also, be sure you are budgeting for a countertop, sink(s), faucets and drains, plumbing, and installation.
7. How long will the job take?
Bathroom remodels can take as little as one week and as long as three to four weeks. The complexity of the tear out, installation details and size of the bathroom are all things that affect the range of time you can expect your bathroom makeover to take.
8. Will I be able to use my bathroom during the remodel?
No, the bathroom should be considered off limits for the entire time of the installation.
9. I want to have my tub removed and have a bigger shower. What do you think about that?
This is definitely a trend we are seeing. Some people feel that a shower is easier and safer to get into and out of as we age. Bathroom designers and realtors tend to agree that removing the bathtub is acceptable as long as there is at least one tub remaining in the home. A prospective home buyer usually wants a bathtub somewhere in the house.
10. What is a frameless shower door?
A frameless shower enclosure is made up of 3/8" to 1/2" tempered and polished safety glass. This glass has greater strength and does not require heavy metal framing around it. Expect to pay $2,200 – $2,600 for your frameless glass door.
11. What is the cost of a shower niche and bench?
Shower benches range from about $200 – $500. A shower niche can range from $150 – $250.
12. I want my shower to have a flat entrance. Is that possible?
Yes. It is called a curbless shower. A curbless shower is one that has a consistently level entrance, with no lip or change in elevation from the outside to the inside. There are some installation details that must be taken into consideration for a curbless shower that will add considerable cost to your project.
13. I want a free standing tub. How much does that cost?
One of the most popular bathroom design trends is the use of a freestanding tub. While beautiful and classic, expect this to add several thousand dollars to the cost of your bathroom renovation. Free standing tubs are deeper than an average tub, can be placed in different locations in a bathroom, and can give a bathroom an antique or a modern feel.
One of the first things to think about before installing a free standing tub is where you would like to put it. You'll likely need a large bathroom. Because these tubs can be installed almost anywhere, you no longer have to place them against a wall. Free standing tubs come in many designs, sizes, and materials, depending on your taste and budget.
Be prepared: the price may give you sticker shock, as most are in the $2,000--$5,000 range.Of course, you will not have to spend money on material and labor to build a deck around a free standing tub, but that will only save you a few hundred dollars. You'll also need to factor in the cost of demolition, a plumber and a carpenter (if the ceiling below the bathroom will need to be removed to access the pipes), and new flooring.
Plumbing is a big factor (and cost) in changing to a free standing tub. The plumbing for these tubs is visible, unlike that of other tubs. The drain and water pipes must be run beneath and up through the floor, so you'll have to consider how accessible and involved it is to reroute the plumbing. You should also consider how easy or difficult this will be while deciding on where to put your tub. There may be a lot of cutting and drilling through beams in order to relocate the plumbing. For budgeting purposes anticipate the cost of the plumbing to retrofit your current tub to free standing to range between $4000 and $5000.
14. Do you charge for an estimate?
Your bathroom renovation is a major investment in your home. We are here to assist you with the attainment of your concept and vision. Design plans, budgeting, and product selection are integral parts of the estimating process, as well as interaction with the various trades that are involved. We do not charge by the hour; the fee for our design service is $250, which is credited with your bathroom renovation purchase.
15. What do I need to purchase?
Normally our clients provide the fixtures (toilet, tub) and hardware (showerheads, faucets, and drains), mirrors, medicine cabinets, towel bars, and toilet paper holders. Other items that you may choose to provide are the vanity, sinks, and storage cabinets or shelves. We can provide the countertop and sinks if these are not included with your vanity.
Enhance provides the installation labor, as well plumbing, electrical, shower doors, and painting. This list is not totally encompassing, but should give you a good idea of what else you will need to shop for. (Note: we cannot begin the demolition of your bathroom until all of the materials that you are providing are on the job site.)
16. What can I expect different items to cost?
The NKBA breaks down bathroom remodeling costs like this:
Plumbing: 22%
Shower: 21%
Countertops: 17%
Fixtures: 15%
Cabinets / vanity / hardware: 15%
Flooring: 9%
Paint / other: 1%
Also set aside a minimum of 10% of the budget as a contingency fund (in case of unforeseen structural problems, for example.)